Import a map document
You can import an ArcMap map document on the Insert tab of the ribbon. Click Import Map and search or browse to your file on the Import dialog box.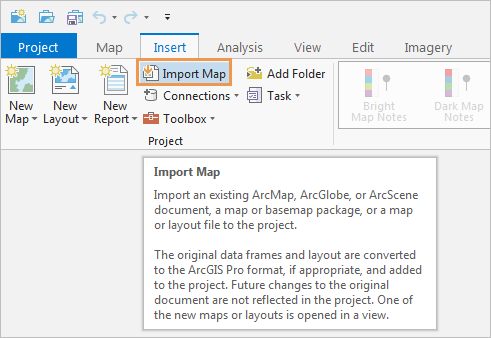 When you import a map, the map document opens as a map view in your ArcGIS Pro project. If your map document has multiple data frames, each data frame becomes a separate map. The additional maps can be opened from the Catalog pane, under Maps.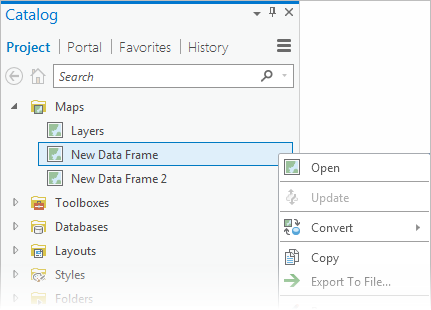 The layout of your map document is also imported. If your map document doesn't have a layout, a default layout is created.
When you import a map, a blue dot appears on the Notifications button above the ribbon. Open the notification to see messages about the import process.

Click the Notifications button.

In the Notifications pane, hover over the message to display a View Results link.

Click View Results.

A browser tab opens (referencing a local file) with import result messages.
Most of the time, imported maps look the same as the original map document. However, there may be subtle visual differences because ArcGIS Pro has a different drawing engine than ArcMap.
If ArcGIS Pro can't access a dataset in the imported map document, an indicator appears next to the layer name in the Contents pane. This means you need to repair the layer.
After import, no link is maintained between the ArcGIS Pro map and the original ArcMap map document. Subsequent changes you make to the map in ArcGIS Pro are not reflected in the original map document.
ArcMap cannot import ArcGIS Pro projects. ArcMap cannot open other items in ArcGIS Pro file formats, such as map packages (.mpkx), map files (.mapx), and so on.
To learn more about importing map documents, see the Import an ArcMap document tutorial.
Add data, toolboxes, models, and scripts
You can add connections to folders, databases, servers, locators, toolboxes, styles, and other items to your project from the Insert tab on the ribbon.

In the Favorites group, click Add Item to add an item to the current project and to make it readily accessible in other projects. A favorite can be immediately added to any project from the Favorites tab in the Catalog pane or from the catalog view.
Tip: You can also make an item a favorite by right-clicking the item in the Catalog pane or catalog view and choosing Add To Favorites.
ArcMap tools, models, and scripts can be used in ArcGIS Pro but may need to be modified. Run the Analyze Tools For Pro geoprocessing tool to check the compatibility of a script or toolbox.
ArcGIS Pro uses Python 3, so scripts that run in ArcMap need to be modified. For more information, see Python migration from 10.x to ArcGIS Pro and Migrating from arcpy.mapping to ArcGIS Pro. Application-level .NET add-ins written for ArcMap will not run in ArcGIS Pro.
Import styles
ArcMap, ArcGlobe, and ArcScene styles (.style files) can't be used directly in ArcGIS Pro projects. However, many of these styles have been converted to ArcGIS Pro style format (.stylx) and can be added from ArcGIS Online. When you add a style from ArcGIS Online, it is copied to your computer and you can continue to use it offline.
You can also import a style from ArcMap, ArcGlobe, or ArcScene. Importing a style converts it from a .style file to a .stylx file.