5 MIN READ
When it comes to developing and improving infrastructure for communities around the world, technologies - such as GIS, BIM and CAD - are essential. In recent years there has been a growing trend towards enabling greater synergy between these technology platforms, bridging the gap between traditional planning and design silos.
In particular, closer integration between GIS and BIM technologies – as announced recently by Esri and Autodesk – is seeing optimised designs, accelerated project approvals, reduced costs, smarter cities and more resilient infrastructure.
Cardno – a global infrastructure and environmental services company – is a pioneer in GIS-BIM integration in the Architecture, Engineering and Construction (AEC) sector. 
Today, their efforts were recognised at a global level, as Liz Fulton (GIS Operations Manager of Cardno for the Asia Pacific region) and Blair Cheyne (Global Technical Services Manager) took the stage at the Esri International User Conference in San Diego to share how the approach has informed their latest projects – from the 700ha Calderwood development in Southern New South Wales, to a $22M sporting precinct in Queensland.
#1 GIS-BIM integration delivers benefits across the entire project lifecycle
One of the appeals of GIS-BIM integration is that it provides benefits across the entire project lifecycle – from the initial site investigation phase, through to the design and approval phase, and finally during the community and stakeholder engagement phase.
In the investigation phase, you're able to combine information from multiple sources in multiple formats to clearly identify and review site constraints or potential issues. You can also perform simplified (low level of detail) 3D modelling and scenario planning, to compare your options visually before committing to a design.
In the design phase, you can easily create a digital twin to accurately visualise the infrastructure at key phases of the development, and understand the final constructed outcome. You can also perform visual 'clash detection' of services prior to finalising documentation; and confirm site conformance with solar analysis and site distance checks.
In the communication phase, GIS-BIM integration delivers improved collaboration and engagement with stakeholders. It enables the project delivery team to visually demonstrate the infrastructure and its benefits, which assists in gaining approval with authorities via community consultation, council meetings and support engineering documentation.
It also supports sales and marketing objectives, such as enabling more engaging media announcements and advertising through interactive 360-degree views or fly-throughs, delivering interactive location-aware web portals and providing an accurate virtual reality component.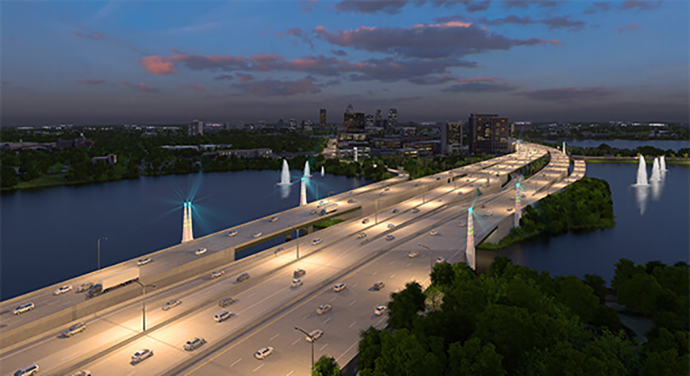 #2 GIS-BIM integration delivers increased transparency so expectations can be managed more effectively
By using GIS-BIM to deliver a truly accurate and geographically-relevant digital design of a proposed project, there is absolute clarity in terms of what stakeholders can expect from a project.
Resolutions can be easily obtained; costings are more accurate; and budgets can be more closely adhered to as there is less room for error or rework. It's also imperative as a project progresses through the design phase to have the visual aspect of the project growing, to ensure stakeholders can be brought along for the ride.
#3 GIS-BIM integration is key to establishing a common data environment
A common data environment (CDE) is a centralised place for digital spatial and non-spatial information to be stored. It allows users to create, view, analyse, share and manage this information all whilst maintaining data integrity.
Having this integrated view of all data enables project managers and designers (for example) to visualise and analyse information from a 3D perspective, to unearth new insights, trends and relationships. This is essential for making accurate, well-informed decisions during the entire project life-cycle.
Integrating all asset data in a federated BIM environment really is a new best-practice for data management – every project benefits from having a single-point-of-truth for all project data.
#4 GIS-BIM integration enables more effective data capture and use
It's important to utilise technology to obtain, create and capture data that is fit-for-project-purpose. Existing data may be readily available from government authority data custodians (such as land agencies) or from commercial operators (such as satellite imagery collectors).
Onsite data capture can be completed by conducting certified ground surveys, aerial inspections or using mobile technologies for field capture. Capturing this data and inputting into a geospatially-enabled design system enables users to instantly generate valuable outputs like advanced spatial analysis or design layouts.
How does this translate to a real-world scenario? In a large-scale land development project for example, data capture methods such as land and aerial surveys, field data capture and off the shelf data can be integrated, managed, analysed and then visually rendered for project stakeholders, so they can better understand and communicate what is being proposed.
#5 GIS-BIM integration ensures systems are all geospatially optimised for better design outcomes
By integrating your GIS-BIM technologies, you unlock a trove of hidden geographic insights that may otherwise have gone unnoticed. You also gain access to more advanced capabilities. Specifically, leveraging GIS technology across the whole project life-cycle allows you to:
Ensure the data and analysis requirements of all stakeholders are effectively met

Access more advanced conversion and interoperability tools

Design a framework for your data that is more manageable and realistic than in BIM alone

Share spatial data in for various formats and platforms

Create tools to allow stakeholders to use and benefit from data
#6 GIS-BIM integration enables greater productivity through collaboration
Smart infrastructure or project delivery is only possible in a collaborative environment, which allows all disciplines to work together under one model, no matter what the platform or tool.
Improved productivity comes from using refined and expanded workflows; and achieving greater alignment across disciplines as a result of sharing data.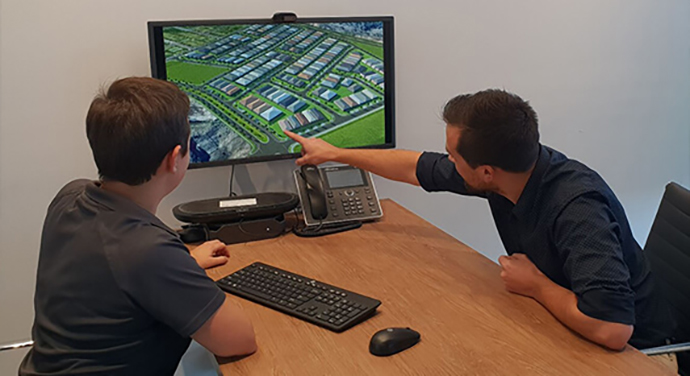 For a closer look at how GIS-BIM integration supports Cardno and their clients to deliver smarter projects – including seeing case study examples – you can view the full presentation from the Esri User Conference.
You can also view other GIS in AEC resources here; or learn more about Cardno via their website.