3 MIN READ
Geospatial technology contributes in the efficient construction of Sungai Buloh-Serdang-Putrajaya (SSP) line.
KUALA LUMPUR: Construction projects are never an easy feat. Especially when it is a RM30 billion mega-project to serve the public: the Sungai Buloh-Serdang-Putrajaya (SSP) Line, or MRT2 under the Klang Valley Mass Rapid Transit (KVMRT) project.
Having been awarded the Special Achievement in Geographic information system (SAG) in early July, Mass Rapid Transit Corporation Sdn. Bhd. (MRT Corp) is recognised by global geospatial solutions giant, Esri, for the implementation of the first cloud-based Geographic information system (GIS) deployment in Asia. The SAG Award is a prestigious recognition given to organisations around the world for their innovative use of geospatial technology to address real-world challenges.
MRT Corp was picked out of more than 100,000 international organisations that were coveting the award. They were recognised for fully integrating building information modelling (BIM) and reality modelling into the ArcGIS Portal in the architecture, engineering and construction segments of the 52.2km project construction.
The ESRI ArcGIS technology powered SSP Line Geospatial Web Portal supplies topographic, geology, structure, engineering and environmental data of the project sites. This, in turn, makes for better decision making, reduced risk exposure and improved project execution.
Commenting on the use of the technology, Aswadi Yusof, Senior Manager, Planning and Design said: "The introduction of SSP Line Geospatial Portal increased the design and coordination productivity by 35%. This is attributed to the platform's easy access to data across multiple disciplines, fast data retrieval, easy navigation of the project information in an interactive mapping viewer, and the ability to visualise 3D models across multiple devices."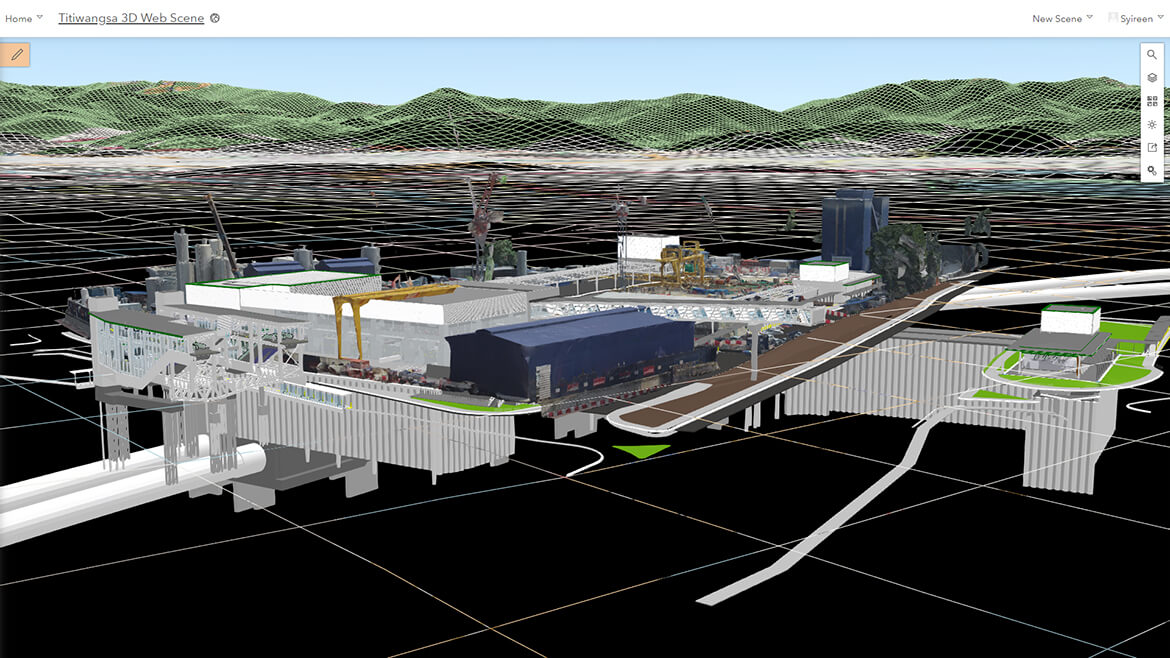 The portal also serves for better collaborations across the board – the 150 team members of various units or disciplines including Geotech, Program Planning, Safety Quality, Civil and Tunnel, and its contractors in viewing, analysing and querying data at any location and at any time.
"The MRT SSP Line Project has been recognised as the industry leader for advanced digital technology implementation such as BIM Level 2 and GIS in this region and as a testament to the use of technology to enhance productivity, efficiency and quality for project delivery," said Aswadi.
The SSP Line Geospatial Portal was jointly developed between MRT Corp which is project developer and asset owner of KVMRT and Underground Work Package Contractor, MMC-Gamuda KVMRT Tunnel Sdn Bhd (MGKT).
The KVMRT project involves the construction of a rail-based public transport network alongside the existing urban rail network which is set to be the backbone of the public transport system in the Greater Kuala Lumpur/Klang Valley region.
The SSP Line ground-breaking ceremony took place in September 2016 and as end of July, the overall SSP Line project has reached 57% completion. Once completed, it will have 35 stations and is expected to be in full operations by July 2022, serving an estimated population of some two million between Sungai Buloh and Putrajaya.