2 MIN READ
Iskandar Regional Development Authority and Esri Malaysia have signed a memorandum of understanding in a bid to set the momentum for Digital Economy in Iskandar Malaysia witnessed by YAB Datuk Seri Mohd Najib Tun Abdul Razak, Prime Minister.
The partnership was officiated at a ceremony held in conjunction with the National Innovation Conference and Exhibition (NICE) 2014 organised by the Ministry of Science, Technology and Innovation (MOSTI).
Witnessed by the two co-chairmen of IRDA, YAB Datuk Seri Mohd Najib Tun Abdul Razak, Prime Minister and YAB Dato' Mohamed Khaled Nordin, Menteri Besar of Johor, the MoU with Esri Malaysia will see the design, development and implementation of the Iskandar Malaysia Urban Observatory using Geographic Information System (GIS) technology.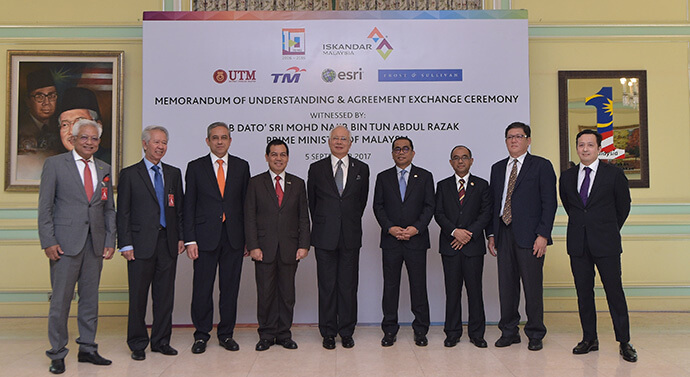 The IMUO is a 'single window' that integrates data from various authoritative sources, and transforms them into actionable information for better policy making & well-informed decision making.
This will enhance spatial planning and provide better public policies that are benchmarked to international standards, and result to better coordinated policies and planning processes with subnational governments.
Esri Malaysia Chief Executive Officer CS Tan said, "The partnership with IRDA will help ensure its ongoing developments can meet the needs of various stakeholders and industries into the future."
The partnership with Esri Malaysia will help in facilitating efficient data sharing across stakeholders, enabling them to build confidence in their ability to make sound decisions on how they can realise their shared vision for Iskandar Malaysia.
"We're very proud to be IRDA's technology partner for Iskandar, and we look forward to partnering with them to make the region a dynamic place to live, work and play," Mr Tan said.
Apart from Esri Malaysia, IRDA also signed strategic MoUs with Telekom Malaysia, Frost & Sullivan and Universiti Teknologi Malaysia to help Iskandar Malaysia achieve its vision of becoming a strong and sustainable metropolis of international standing.