2 MIN READ
Deputy Minister for Natural Resources and Environment YB Datuk Ir. Dr. Haji Hamim Bin Samuri presented award to 7 recipients.
Dewan Bandaraya Kota Kinabalu (DBKK), Dewan Bandaraya Kuala Lumpur (DBKL), Petronas Carigali Sdn Bhd (PCSB) and a number of other organisations have been selected to receive a prestigious award for their use of geospatial technologies to support the country's vision of Transformasi Nasional (TN50) .
The GeoInnovation Award, which was presented by Deputy Minister for Natural Resources and Environment YB Datuk Ir. Dr. Haji Hamim Bin Samuri at the Esri Malaysia User Conference, recognises the creative use of location-based analytics technology in addressing social, economic, business and environmental challenges in their communities.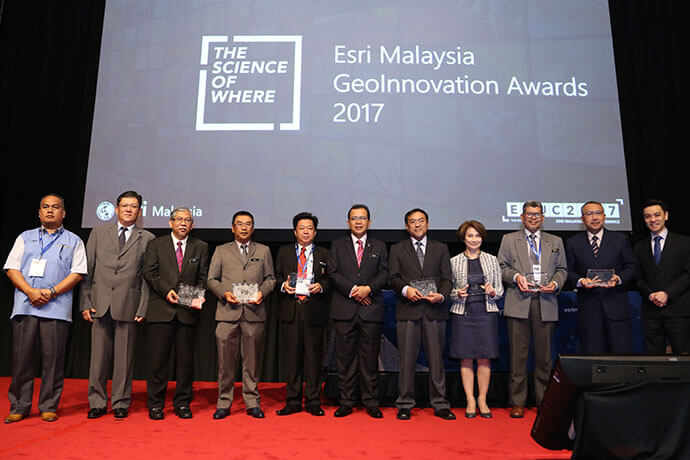 The recipients of the prestigious award includes DBKK, DBKL, Jabatan Perancangan Bandar dan Desa Negeri Sembilan, Sabah Lands and Surveys Department (SLSD), Malaysian National Disaster management Agency (NADMA), Tenaga Nasional Berhad (TNB) and Petronas.
Esri Malaysia CEO CS Tan said, "An increasing number of local commercial and government organisations have been relying on smart planning tools to ensure their ongoing initiatives can meet the current and future needs of their respective organisations."
"The accomplishment of our winners is a testament to their commitment to enhance and transform their current business processes. We at Esri Malaysia have been privileged to be part of their success and we look forward to supporting initiatives geared towards making the TN50 vision a reality," he said.
The Esri Malaysia User Conference is the largest and longest running geospatial event in the country. It brings together more than 500 geospatial professionals and decision-makers from commercial, government and the academe to explore the potential of using location analytics to advance key development goals for the community.