4 MIN READ
Today, cities account for more than 50 per cent of the world's population and produce 80 per cent of global Gross Domestic Product. These figures are expected to increase in the coming years as cities develop, harness new technologies and become 'smarter'.
The paradigm has shifted from the conventional wisdom that economic growth is solely driven by central governments. Now, cities are striving to become economic powerhouses – and vying to attract talent, create industries, and facilitate innovation. This new approach is expected to pave the way for a knowledge-based economy – a vision that Malaysia has been committed to achieving for the past decade.
The term "Smart City" has been used everywhere and oftentimes people would have varying interpretations of what it really means.
For Esri, we believe that a true Smart City will enable the interoperability and integration of siloed city systems. It means being at the heart of a city's e-Government plan to drive modernisation and improvement in key public services.
As we've been working with many cities across Malaysia on enabling their respective e-Government strategies, I would like to share four founding principles to help cities build their own digital transformation plan.
With this approach, you'll find that it's now easier for cities – regardless of their size – to be a smart city.
1. Start small, but strategic
The "think big, start small" mentality implies managing your vision of a fully digitized whole-of-Local Government to first work on key city departments such as taxation.
The COVID-19 pandemic has reduced local government revenues. To spur Malaysia's economy, the Federal Government expects revenue to rise by 4.2 per cent through higher tax collections – without raising taxes or introducing new ones. 
In line with this, we're currently working with cities to modernise their taxation department. Whether it's providing them with a ready-to-deploy solution or a system to help them optimise tax collection operations, the value derived from an improved tax administration and oversight is immeasurable.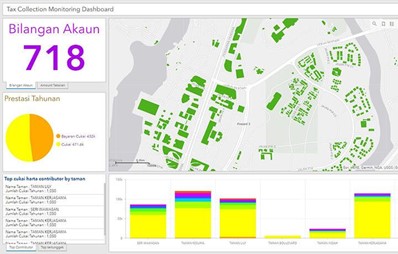 2. Scalability matters
I've witnessed project managers whose e-Government projects were a great success, and because of this they have been asked to apply those same capabilities to new business objectives or respond to a rapidly evolving situation like the COVID-19 pandemic.
It is important to have a scalable technology infrastructure that allows you to keep your momentum and provide you with the agility to configure processes, applications, and strategies along the way.
Whether it's responding to a pandemic, mobilising first responders, and planning for economic recovery having agile systems speaks volumes about an organisation's resilience and how it can keep delivering its many missions. 
3. Collaborate
Esri President and Founder Jack Dangermond has often underscored the importance of collaboration, and stated that: "collaboration happens at the speed of trust"
The evolution of GIS has brought down organisational barriers to facilitate new empowering forms of collaboration.
What used to be just another IT solution boxed in the four walls of IT and GIS departments is now more ubiquitous across entire government operations or specifically to agencies.
We are now seeing a generational change from client server PC technology to a Web GIS platform. Now, access and use of geographic information can be done by anyone in the organisation, even those without a technical understanding of GIS
As many governments move towards embracing a culture of openness, new ways to interpret and present the data requires improved capabilities which are found in Web GIS.
And the great thing about Web GIS is that it brings different departments together. It allows them to keep their own system and also share their own information as web services.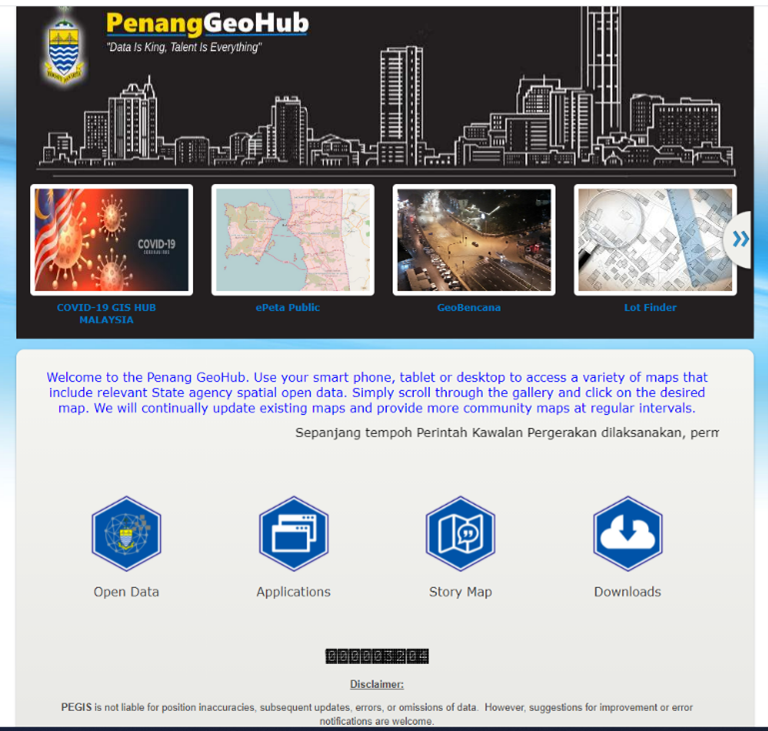 With this approach, each organisation can manage their own mission-critical operations while storing and maintaining the geographic information in a virtual database that is easily accessible by everyone. In fact, you can find some examples from cities such as Penang, MBIP, Selangor and more via the local government GeoHub.
4. Citizen engagement
One of the most critical areas of governance is incorporating communities in decision-making and e-government tools provide a number of ways to engage with communities digitally.
Tools like ArcGIS Hub allow governments to leverage their existing data and work together with internal and external stakeholders to track progress, improve outcomes, and create more engaged communities.
Looking back at the height of the COVID-19 pandemic last year, an important lesson we've learned from this is that community engagement and communication are key to keeping citizens safe.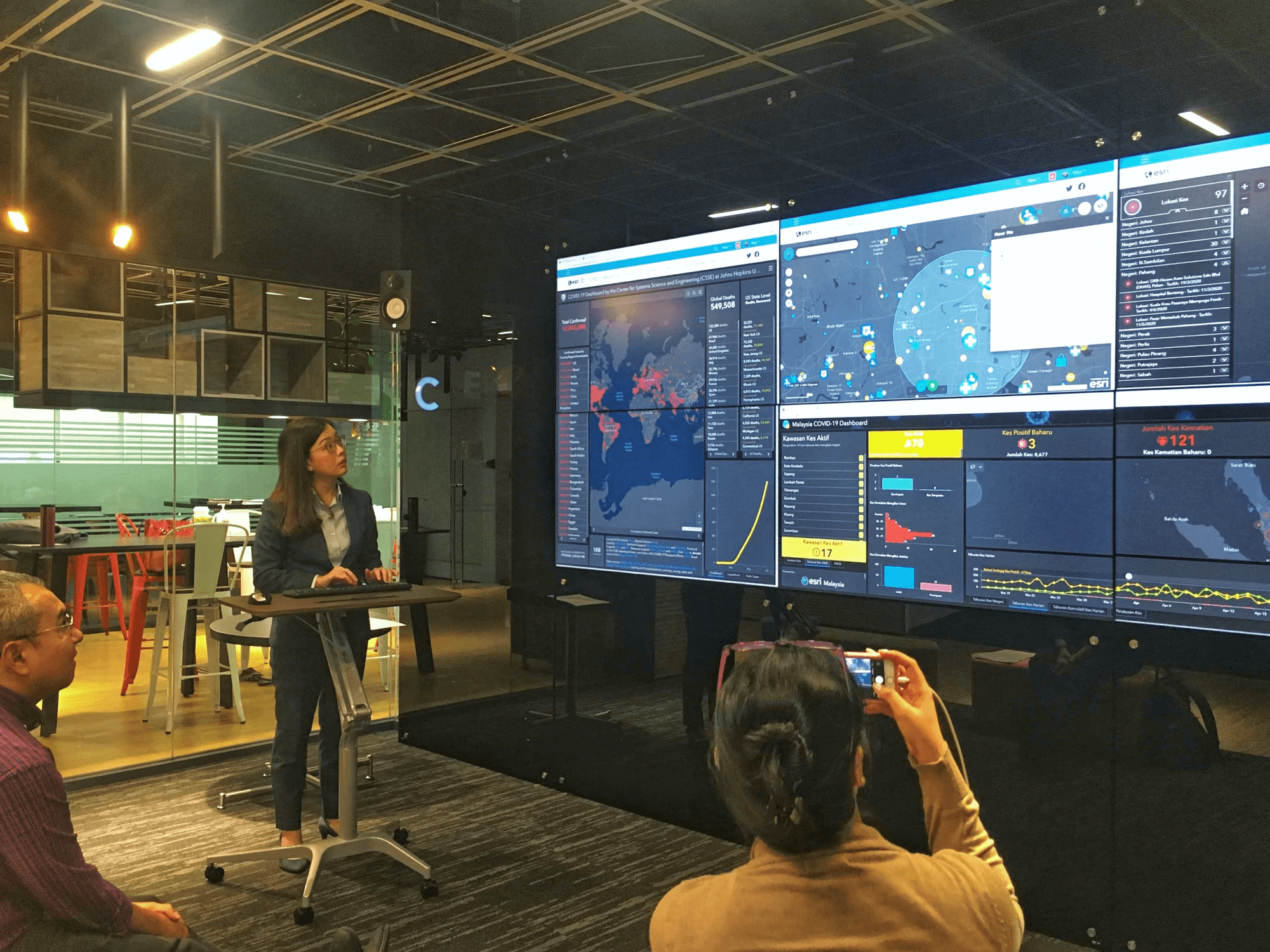 In fact, our team, worked with organisations to integrate relevant COVID-19 data and visualize it on a dynamic mapping dashboard. This dashboard – or what we call a COVID-19 hub – served as a single source of truth on data related to the pandemic.
It worked as public health information tool that collates information from the relevant government agencies and visualises it on a dynamic web application.
provide communities and local authorities with a clearer picture of the situation as it unfolds. Most importantly, it supported efforts to curb the spread of misinformation and fake news that was aggravating the public health crisis.
Read this case study to see how one Majlis Bandaraya Iskandar Puteri digitally transformed their organisation with their innovative OneMap e-government portal.
Joanne Loh Poh Choo
Chief Technology Strategist
Esri Malaysia
Experienced technology strategist helping organisations geo-enable their digital transformation initiatives.