3 MIN READ
Since the COVID-19 outbreak reached Malaysia's shores earlier this year, it has been an ongoing battle to control its spread.
The introduction and enforcement of the Movement Control Order (MCO) was an important step to fight the outbreak, and with great success too. We also saw how Geographic Information Systems (GIS) technology was used extensively to support these efforts. 
On the global scale, it showed how the virus was spreading across the world in real-time, and was also deployed for contact tracking and tracing. We quickly learned that the availability of data and information to all parties is crucial in battling a pandemic.
To this end, we launched the COVID-19 GIS Hub website to collate and present official information from government authorities, which would benefit related agencies and the public. In the process, we learned some important lessons about GIS which I felt were important to share.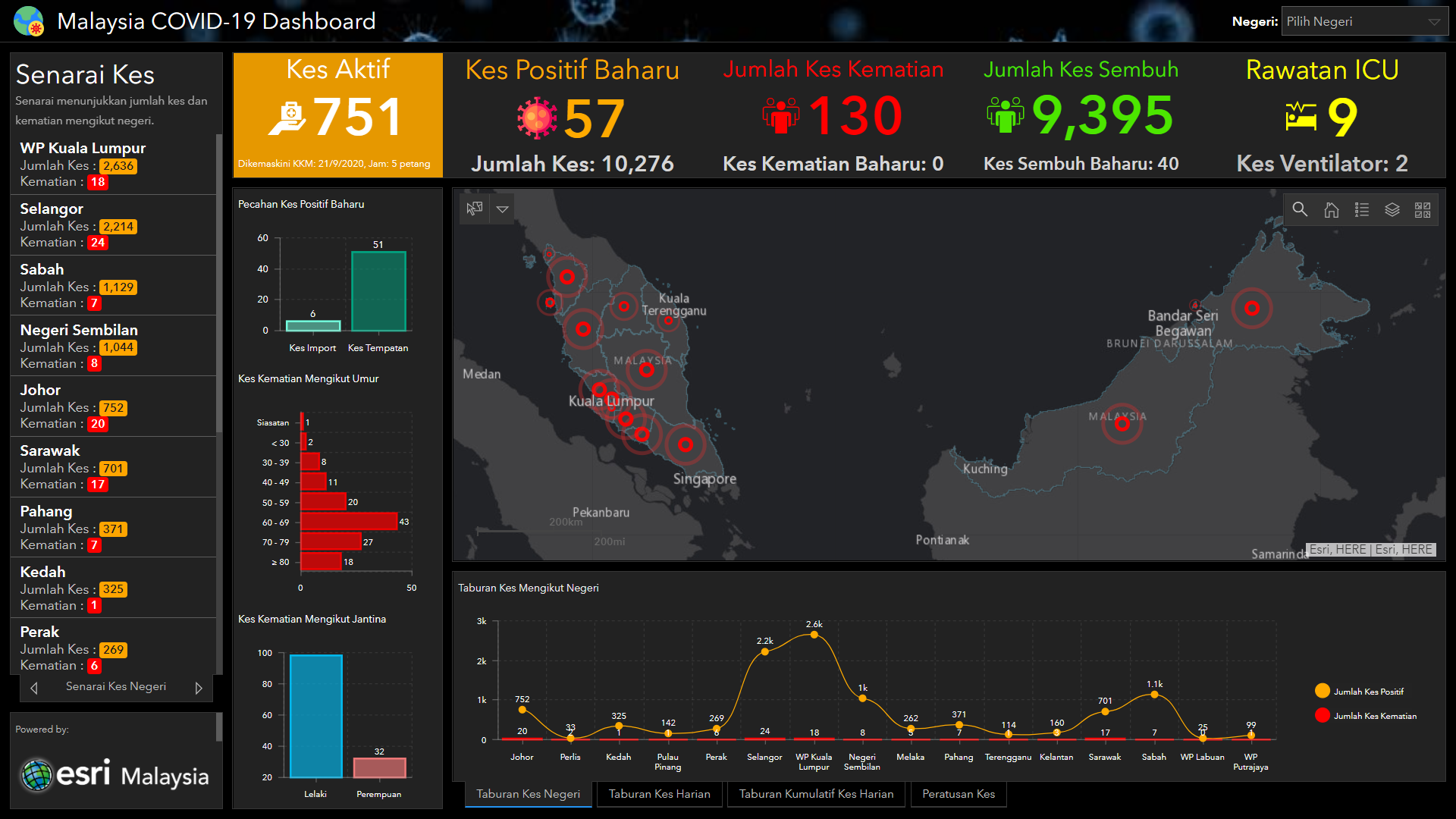 Easy to use and understand
It started with the COVID-19 dashboard by The Johns Hopkins University – setting the standard of which similar platforms after would be compared to. Built on Esri's world-leading ArcGIS mapping software, it was one of the first COVID-19 maps to be publicly available – providing clear and concise real-time data that even non-GIS users could understand at a glance.
Building upon these lessons, we developed a hub that would provide anyone the resources and data to understand, prepare for, and respond to COVID-19 in their community or organisation.
Platforms can be quickly built and deployed
Given the speed at which the pandemic was spreading – throughout the world and in Malaysia – it was crucial to provide valuable technology solutions in a short time to a huge audience. 
ArcGIS was favoured because of its ready-to-use and configurable apps and templates, which could be deployed within one to two days to assist in operations nationwide.
To enable more effective contact tracing
Currently, government authorities gather tonnes of data through the various QR code platforms as part of the person-to-person approach in traditional contact tracing. However, this should be expanded to include person-to-person-to-place to make it easier to track people with symptoms and who are positive with the virus. 
This makes sense in today's highly complex, highly mobile, and interconnected world. All that is required is to enable contact addresses and community locations during the data collection process.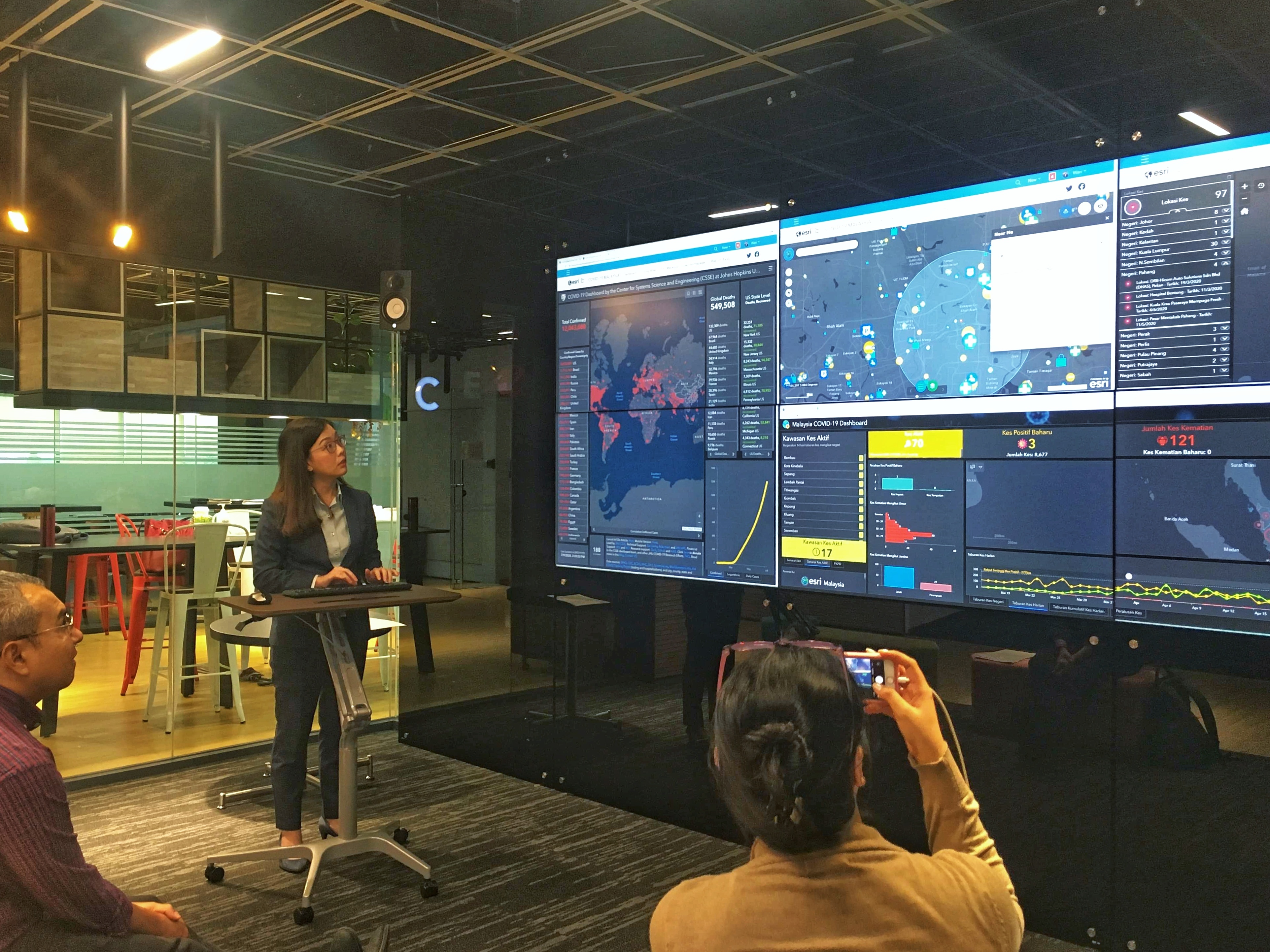 Achieving location enablement
By tracking the locations of the check-ins, we can identify places that may connect cases and contacts otherwise unknown to one another. 
For example, if a person who is a confirmed case shops at the same store as a contact, these places of transmission can be identified. 
The authorities can then take action, be it cleaning and disinfecting or tightening social distancing measures in and around that location. Such instances can also be recorded and used in analytics to examine collected data to identify potential contacts and determine where specific cases might originate.
A single source of truth 
Whether through personal messaging or social media, there have been different unverified and inaccurate reports on the COVID-19 situation, which have only led to panic and unease among the population. 
But through the hub, we have provided a one-stop location that collates official and the latest information – this not only provides a clearer picture to the public, but the organisations and agencies involved too.
Learn how else GIS technology can assist with your organisation's COVID-19 response with our Coronavirus Business Continuity Solution, or send an email or call 60 (3) 5022 0122 to get in touch with an Esri Malaysia specialist.
Joanne Loh Poh Choo
Chief Technology Strategist
Esri Malaysia
Experienced technology strategist helping organisations geo-enable their digital transformation initiatives.